Facial Services
Sunset Tans Signature Facial
A facial for all skin types which begins with a deep cleansing, and includes exfoliation, extractions, massage, and finishing mask.

60 min - $65     
Express Facial
A great way to experience a facial when you're short on time. Sit back, relax, and enjoy our express facial. You can even experience this facial in your chair while your color processes. Walk out with exquisite hair and skin! The express facial includes deep facial cleansing, exfoliation, mask and moisturizer. Add on Hydrating Eye Gel Treatment for $5 – reduces dark circles and puffy eyes.

30 min - $30
Anti Aging Facial
Your skin is ready for a comeback! Using the latest in ingredient technology, this customized treatment will address specific areas of concern from loss of elasticity, fine lines and wrinkles, skin discoloration and sun damage. Get ready to restore that youthful glow!

60 min - $85
Glycolic Peel Facial
The secret to younger-looking skin since ancient times, a Glycolic Peel Facial is a favorite for many people because it's fast, mild, and effective. A light, fruit-based alternative to harsh chemical peels, this facial, combined with exfoliation treatment, is a great choice to reduce wrinkles, hyper-pigmentation, and scars.

60 min - $95
Hydrating Paraffin Facial
The soothing, hydrating properties of paraffin are perfect for sluggish, dehydrated skin. The highlight is the deliciously warm embrace of the ultra-purified Paraffin Mud mask, rich with minerals which impart a beautiful glow.

60 min $80
Acne Clearing Facial
Targeting current breakouts and preventing future breakout activity, this treatment provides the foundation for healthy, consistently clear skin.

60 min $75    
Body Services
Back Facial
A results-oriented treatment for one of the most neglected areas of the body. This treatment will cleanse, exfoliate and purify. Effectively treats back acne. Includes light extractions and a back massage.

45 min $50     
Body Exfoliation
Exfoliates and polishes away dull surface skin, increases circulation, imparts a radiant healthy glow, prompts the regeneration of skin cells.

45 min $80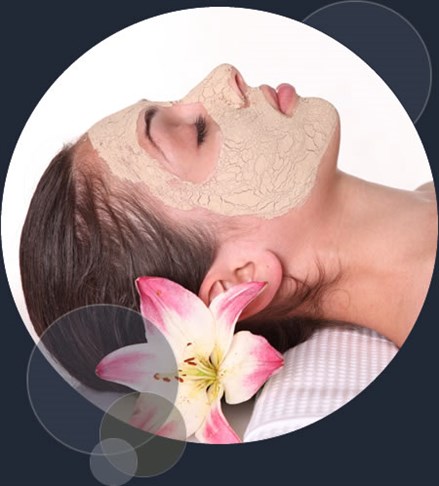 Add-On Treatments
Exfoliation Brush
Great for face and body – gentle exfoliation for softer, smoother skin , helps reduce oily areas, dry skin patches and blemishes.

Face-$8
Body-$12
Paraffin Hand Treatment
Hydrates and moisturizes skin.-$8
Paraffin Foot Treatment
Great for chapped skin & cracked heels.-$10
Re-Elasticizing Mask
Lifts, tones, brightens skins color.-$15
Hydrating Eye Gel Treatment
Hyaluronic Acid, Allotin, Aloe, Ginseng, Green Tea and Vitamin E enhancing the appearance of younger looking eyes.-$5
Line refine serum
Improves surface dehydration and fine lines.-$5
Blemish serum
Combats breakouts, helps accelerate blemish clearing.-$5
Fangocean
Anti-inflammatory, calms, purifies, & detoxifies.-$7
High frequency machine
Effective treatment for acne, enlarged pores, fine lines, wrinkles and sagging skin, puffy eyes, dark eye circles.-$20